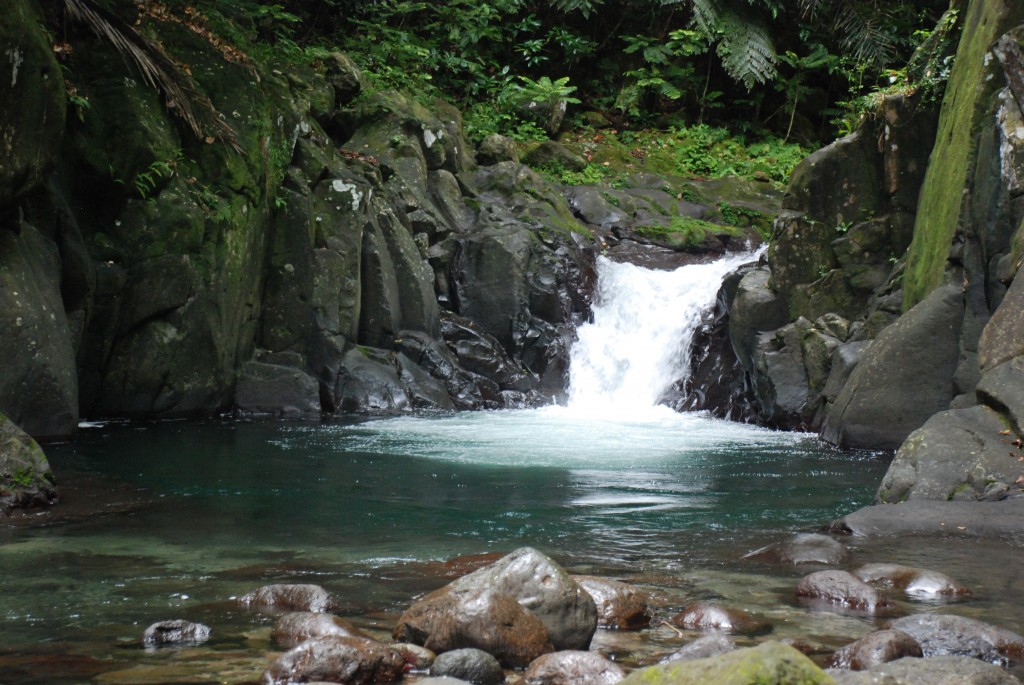 January 14-28
I am finding it almost impossible to start writing about Dominica.  Where do I start?  What do I include?  What can I leave out?  This post could be a book all by itself if I included everything we experienced here!  We spent two weeks in Portsmouth, Dominica. We arrived with s/v Anything Goes and by the time we left, we had more friends from the island of Dominica than we had met in our first 6 months of sailing.  With colorful names like Titus, Blackie, Sugar Daddy, Cobra, and Stuff, you'll hear about all of our new friends and adventures and wonder, like we did, how we ever brought ourselves to leave this precious island, known in days of old as Waitikibuli: Tall is Her Body…
"Don't wait for your ship to come in.  Row out to meet it." –Anonymous
I remember the approach to Dominica from Les Saintes.  We sailed in from the north.  As we approached, I called Eddison on the VHF to see if he would be our "Boat Boy".  He responded that someone would meet us as we entered the harbor.  Our cruising guide explained that an organization called PAYS (Portsmouth Association of Yacht Security) has organized all of the local tour guides and yacht services to create a fair way to distribute the work among the local guides.
Each cruising boat has the opportunity to have a "Boat Boy" who will help you find a mooring, answer questions, take your garbage, get your laundry done, give tours of the island, and more.  The money raised by weekly PAYS beach barbeques covers the cost of a security boat, which patrols the harbor each night.  Although we were skeptical at first, we found the system to be efficient, fair, and extremely helpful.  We entered the harbor thinking that we had been "just fine" anchoring in many new places without a "Boat Boy" and we left Dominica knowing exactly how intimately you could know an island with the knowledge, expertise, and helpfulness of a local.  The money we paid to our Boat Boy and the PAYS organization was worth every penny, and the friendships we made as a result are priceless.  (If only they would change the name!  Boat Boy sounds positively awful to me!)
(BTW, "yacht" is used down here to refer to pleasure boats, even though it sounds strange to hear Patronus refered to as a yacht.  Locals use the term to discern pleasure craft from "cruiseships".  Most fulltime pleasure boaters call themselves "cruisers", which is a little confusing, if you ask me.  To make matters worse, the term "yachties" has its own connotations and must not be confused with "yachtsman".  Oy vey.)
When we entered the harbor, we were guided to a mooring by Martin, whose boat is called Providence.  I pointed toward a different mooring that was closer to Anything Goes as well as to Big Papa's, a local restaurant.  I asked Martin if we could use that mooring instead, because we wanted to be near our friends and also wanted to hear the reggae music coming from Big Papa's.  Martin laughed and said that most people asked to be moved far away from Big Papa's because on Wednesday, which is Reggae Night, the music is pumping till 4am.  I told Martin that I specifically came for Reggae Night and I hoped the music would shake our boat!  He shook his head like he had never quite met anyone like me before.
Soon after settling in, we saw a beautifully made wooden boat approach us.  The boat was about 15 feet long and had beautiful lines.  There were six bench seats laid across it and it said "Eddison Tours & Yacht Services" on the side.  The man in the boat introduced himself as Titus, who works with Eddison.  Little did we know that just a few weeks later, Titus would follow us out of the harbor in that same boat, waving goodbye not as strangers, but as great friends.
Are you getting the sense that Dominica isn't like the other islands we have visited?  Good.  Then I'm doing it justice.  Titus told us that Eddison was giving a tour and would come by later that evening.  He asked us if we needed anything and told us he would be back to check on us later.  We went to check in at Customs and Immigration, which was easy and quick.
When we met Eddison, we were taken by his quiet, soft-spoken speech.  He spoke slowly and deliberately and looked me straight in the eye.  I like a person who can look you in the eye and respects you enough to do it.  I didn't give poor Eddison a chance to give us the hard sell on all the services he could provide.  Used to being the Julie McCoy of Patronus, I had already researched the island and planned our itinerary.  I showed it to Eddison and rattled off some questions.  It was wonderful to get all the answers I needed so quickly.  It usually takes me a day and a half in a new place to scope out all the particulars on our basic needs:
Laundry- Eddison's mom does it at her house.  Two GIANT bags of nearly every stitch of clothing, bathing suits, towels, and sheets we own: 120 EC (about $45 US).  There are no "do-it-yourself" Laundromats in town, so you have to get it done.  I should mention here that many cruisers choose to do their laundry onboard, in buckets, with plungers, but it has worked out so far that we haven't had to add that chore to our already packed list.  We'll likely have to do it in the Bahamas, so I'm saving my plunger muscles for then!  Wendy is a pro at it, and she is currently fighting her nickname of Washer.
Fuel, Ice, Groceries, Garbage- Eddison pointed us to the fuel dock, he told us he could get us ice any time we need it, he told us the best stores to get food, and he took our garbage for us.  Big old "DONE" stamp on those items.
Sightseeing- After reading our guidebook, I had a huge list of places I wanted to see on Dominica: waterfalls, the Indian River, the Carib Territory (the Indians for whom the Caribbean is named), the town of Calibishie, and, of course, Reggae Night at Big Pappa's.  Eddison looked at the list and slowly nodded his head.  "Yes.  We can do that."  I told him we had 12 people (us, Anything Goes, and Virginia Dare) but he said his bus could hold us all.  We decided to break up the sightseeing into one full day tour and one half day tour.  We left rest days in between because there were a few other places we wanted to hit on our own.  I was still a little nervous that the tours would be expensive, but I hoped that it would be worth it to have a local show us around instead of trying to get all over the island by ourselves.  I needn't have worried.
Eddison was still hanging off the back of our boat, standing on the bow of his and bobbing up and down.  I was wondering if I was supposed to give him money for something, but I couldn't think of what and he wasn't asking.  It took me a few days and a number of visits to realize he was just enjoying our company as we looked out over the gorgeous harbor.  I offered him a beer and he gladly accepted.  We watched the sunset together and he promised to work on delivering a bigger Green Flash the next night.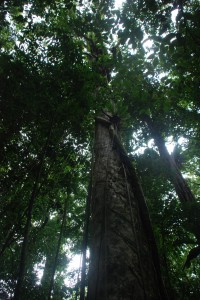 At this point, I am afraid to simply list all the wonderful and amazing adventures we had on this spectacular island.  I fear that something will be lost in the translation.  We didn't JUST take a ride up the Indian River on Eddison's beautiful wooden boat.  We were transported to a different ecosystem and had a special experience with a new friend.  We didn't just TRAIPSE through the rainforest.  Ken G inspired us to see, smell, hear, and feel the trees, the birds, and the dense, moist air that filled your lungs with life.  We didn't just VISIT a school.  We laughed with the Dominican children and felt the similarities between them and our own kids.  We didn't just GO to the parade that started off Carnival Season.  We jumped up (danced) with Russ in the middle of the street, behind the truck that carried the band, which played crazy, insane, and loud calypso music at trance-inducing decibels.
The more I remember, the more I realize that I must write about it all.  I want to have these memories for myself, even if none of you can take the time to read it all.  Even if it doesn't inspire anyone to visit this incredible paradise.  But I do hope that you follow along, and taste some of the magic, as I take you on a tour of one our favorite places on Earth…